With a new directory of Breton companies that already supply projects in France and abroad, Bretagne Ocean Power facilitates your search for suppliers capables of meeting your needs on projects in France and internationally. This French/English online directory lists 165 specialized companies that already have 260 references, including worldwide. In Brittany, many projects are being developed in all offshore wind and marine technologies (offshore wind turbines, tidal turbines, wave turbines, etc.) including the world's first floating wind farm project. Among the Breton companies, 16 of them will present their expertise at the international Seanergy exhibition.
Suppliers with diversified skills, validated in France and internationally
A total of 165 Breton companies are currently identified in the directory compiled by BDI, the economic agency of the Brittany Region, classified by skills: production, studies / project development, construction, installation / logistics, operation / maintenance and support services.
Among these companies, a hundred have successfully signed 260 contracts in offshore wind and marine technologies in France and abroad. This know-how, which has been validated by project owners, can be found across the entire value chain: environmental studies and measurements, engineering and equipment, metal construction, electrical equipment, energy storage and conversion, operation and maintenance.
With the construction of current wind farms and the development of offshore renewable projects, other references are to come.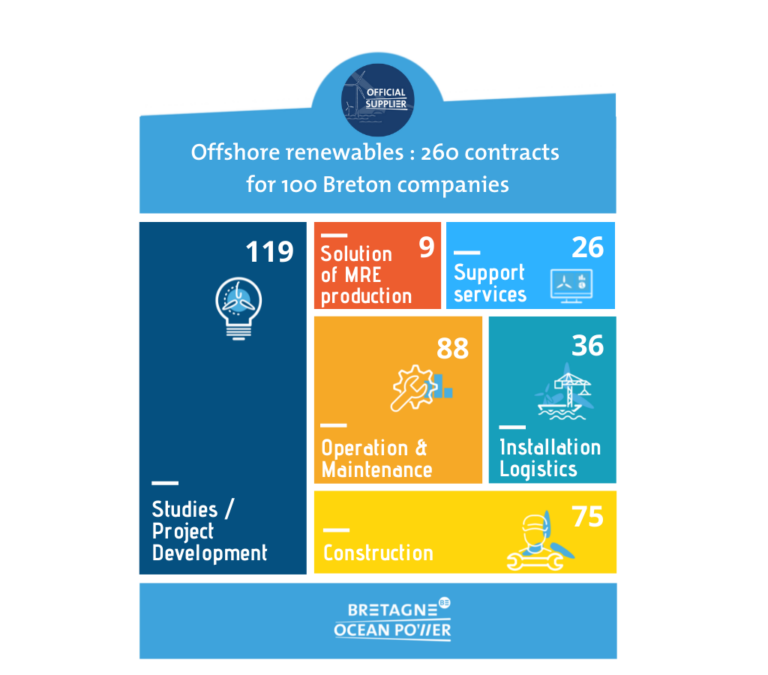 Meet 16 of them at Seanergy 2022!
16 Breton companies will be present on the Bretagne Ocean Power booth at Seanergy 2022 from 15 to 17 June 2022 in Le Havre:
Actimar: oceanographic meteorological studies to anticipate weather conditions in the integration of projects > currently works on all calls for tender for French offshore wind farms.
Hytech imaging: aerial observation campaigns of the marine megafauna in the context of environmental monitoring > currently involved in all the calls for tender for French offshore wind farms.
Quiet oceans: unique technologies for modeling underwater noise and monitoring it in real time to derisk and enable MRE projects > has been involved in the installation of foundations for the St Nazaire wind farm, for the St Brieuc wind farm (France), and also during the pile-driving operation for Taiwan, Rimini (Italy), Dansk Kriegers Flak (Denmark) and Hollandse Kust Zuid (Netherlands) wind farms.
Gaïa – Terre Bleue : service and consulting in maritime development, and specifically in oceanography and marine environment > this company carried out the environmental impact studies for the Phares and Tiger projects in Morbihan.
SEABER: design and manufacture of micro-AUVs for research and commercial oceanographic applications.
Wipsea/Pixsea: help to MRE infrastructure developers/owners and ecological consultancies to meet their MRE impact study obligations on marine megafauna by offering solutions for aerial image acquisition and analysis > has been used for the Fécamp and Courseulles-sur-Mer offshore wind farms.
Inyanga: offshore operations for MRE and offshore wind > has been involved in numerous projects for the design and installation of tidal turbines such as SIMEC Atlantis (Scotland – Meygen project), Voith, SABELLA and Minesto, also involved in the installation of several French wind farms (installation of foundations for the Saint-Brieuc wind farm).
PIRIOU: specialized in the construction of standardized or customized vessels > has supplied VTCs for offshore wind farms for British, Dutch and German shipowners currently operating in the North Sea and Taiwan.
Ship as a service: a one-stop shop for marine services, project management, technical assistance and consultancy > has notably carried out the anchor line inspection campaign for the Floatgen project, and the marine services and technical assistance for Saint-Brieuc's wind farm (France)
OTECMI: specialist in non-destructive testing and inspection > carried out the non-destructive testing of metallic elements built for the foundations of the offshore wind farms in St Brieuc and St Nazaire (France), and the non-destructive testing of composite elements of wind turbine blades for LM Wind.
Gisman: specialist in offshore buoyage, manufacture of buoys and distribution of navigation lights > supplied floating supports for the NKE Data buoys used on the St Brieuc's offshore wind farm (France).
ENAG: French specialist in energy conversion > supplies the energy conversion devices for the Hydroquest turbine and for electrical substations of offshore wind farms (France).
Marine energy producers:
Eolink: develops an innovative and integrated floating wind turbine
Sabella: designs and manufactures tidal turbines
Groupe Legendre: develops DIKWE solution, a port protection structure that recovers wave energy to produce port electricity
Ailes Marines: develops, builds and operates the offshore wind farm off the Saint-Brieuc's coast