Brittany is in possession of an extraordinary asset: 3 open sea test sites, equipped to host the primary marine energy technologies (tidal, wind and wave). 

With its ideal geographical configuration and a tissue of proven expertise, Brittany is currently offer you the ability to test your project on 3 test sites:
in Paimpol-Bréhat
in Sainte-Anne du Porzic in the bay of Brest
in the Ria d'Etel
You are a technology developer, a project owner or an organisation offering technology applications for testing tidal, wind and wave projects?
These maritime test sites are open to you !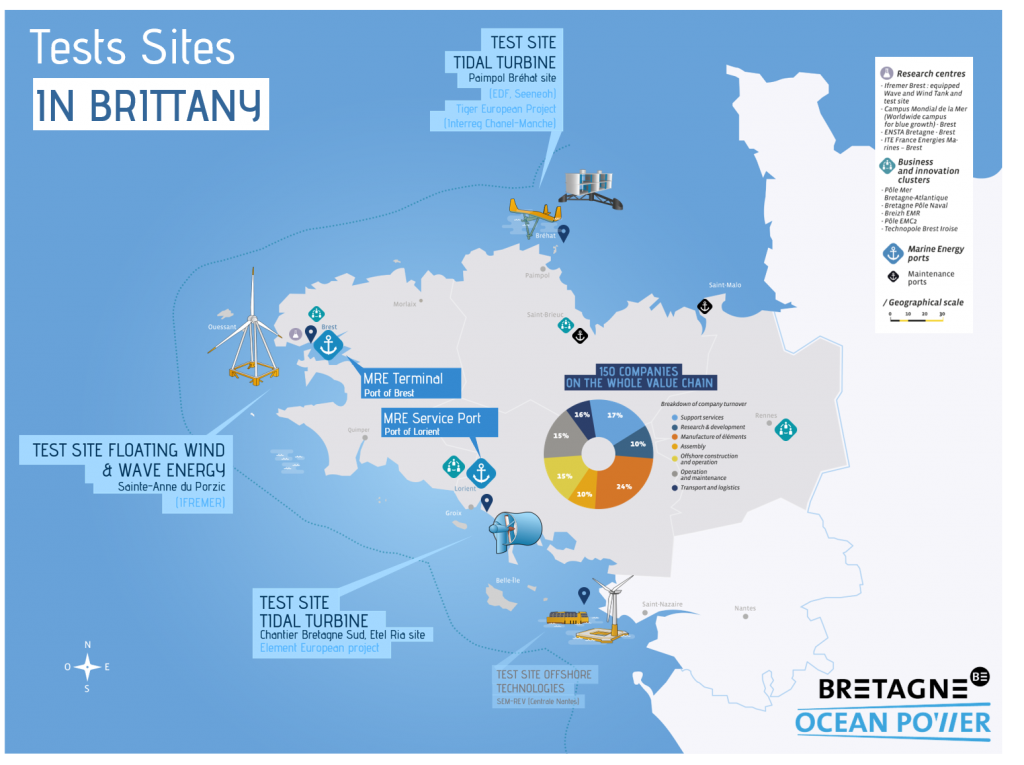 Controlled-Cost Sites
Each test site has its own specific features. However, they all have things in common:
They are easy to operate (with qualified labour available to operate and maintain technologies in the areas of research, marine operations, ship building and repair).
All at controlled costs.
Additional Sites
The site in Sainte-Anne-du-Porzic (bay of Brest) is managed by Ifremer and that in the ria d'Etel managed by Chantier Bretagne Sud are used to test reduced-scale machines or applications. The sites are complementary: the first for wind or wave energy, the second for tidal turbines.
Offshore Tidal Turbine
Finally, the site in Paimpol-Bréhat is operated by EDF. It is the only full-scale pilot site for offshore tidal turbines. It also has the advantage of being connected to the grid by means of a direct current cable. Currently, the Grenoble company HydroQuest and its partner CMN (Constructions Mécaniques de Normandie) are successfully testing their 1MW marine tidal turbine HydroQuest Ocean. As part of the European TIGER project (see below), the Minesto kite-shaped tidal turbine will be tested on the site from June 2021.
Find the details of the projects currently being tested on the page of projects in Brittany.
Find in Brittany solutions at all stages of maturity of your tidal turbine projects :

You have a project? Come and test it on one of our test sites!
For more information, please contact us.

On Paimpol-Brehat test site, Tiger Project : to demonstrate that tidal stream energy is a maturing industry, capable of achieving an accelerated cost reduction pathway.
The project will build cross-border partnerships to develop new technologies, test and demonstrate up to 8 MW of new tidal capacity at a number of locations around the Channel region, and use the learning from this development to make a stronger, cost-effective case for tidal energy as part of the France/UK energy mix.  The project is the largest ever to be approved not only by the France (Channel) England Programme but by any Interreg programme.