With now the 1st european floating wind parc, Brittany has been able to demonstrate for nearly 10 years all its expertise in offshore renewable energies. FOWT is a major opportunity to meet the Breton MRE know-how. Join us!
Brittany is home to the first European floating wind farm, and a second parc of 500MW to come. This is an obvious choice for a region that has been committed to the development of this sector for several years now. FOWT is the ideal moment to meet the Breton representatives of the floating wind energy. They will be present on the stand of the regions and supply chain of the territories involved in the floating wind.
Come and meet us on the Region's booth!
Meet Bretagne Ocean Power!
As a gateway for national and international industrials, Bretagne Ocean Power identifies the Breton marine energy partners best suited to your needs, especially in the context of call for tenders in South Brittany.
Meet Port of Brest!

With 40ha dedicated to Wind Turbine, Port of Brest is a strategic location at the heart of the European Floating Wind market.
Meet Breton companies! 
165 Breton companies are involved in offshore renewable projects. You can easily identify them in the directory of skills.
You will be able to meet specially 3 of them during FOWT 2022:

OTECMI: Otecmi is a major specialist on Non-destructive testing and inspection, with a strong experience on NDT and jacket foundation of St Brieuc offshore wind farm.
QUIET OCEANS: Quiet Oceans works on offshore wind farms around the world, providing project developers with solutions for predicting and monitoring ocean noise and reducing the impact of anthropogenic noise.
ACTIMAR: Involved since the beginning of the development of offshore wind turbines in France, Actimar has specialized in oceanographic studies and services associated with floating wind turbines.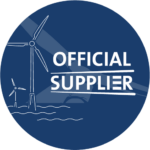 Here are 3 representatives of Breton know-how, official suppliers of offshore wind farms, in France and in the world. You too, you can rely on them!